Drunk Driving & Related Vehicular Offenses
The DUI book is now in its 5th Edition!
Attorney Robert Reiff is well-known throughout the Florida legal world as the author "Drunk Driving and Related Vehicular Offenses" and its numerous editions. This book is considered the lawyers complete guide book to drunk driving defense.
Price: $190.00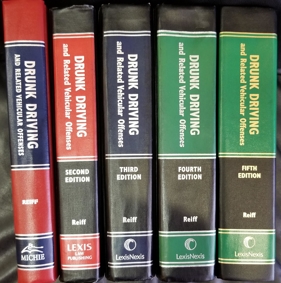 Publisher: LEXIS Law Publishing Company
Bookstore
Format: 1 volume, hardbound
ISBN: 082057550X
Copyright: 2005
Description:
In today's courts, there is no crime more aggressively legislated, prosecuted, or adjudicated than driving while under the influence of alcohol and drugs.
This one-stop resource demystifies a complex area of law, analyzing exhaustively the many available avenues of prosecution and lines of defense. Noted DUI expert Robert S. Reiff, rated the most effective DUI advocate in South Florida by the Miami Herald, shows you how to sell yourself to your client, select a jury, cross-examine the arresting officer, and deliver a strong closing argument. He offers his "Top Twenty Tips" for defending DUI cases, and provides a large assortment of proven forms for pleadings, motions, correspondence, and other uses. Learn from the Master DUI Practitioner who has taught thousands of attorneys how to better manage their practices and win their cases.
A valuable practice tool that helps you win cases and increase profits, Drunk Driving provides:
More forms to streamline your practice
Sobriety exercises and breath, urine and blood tests
Jeopardy limitations on prosecutions
Administrative driver's license hearings
The entrapment and necessity defenses
Expert witnesses
Accident reconstruction
Sentencing
Table of Contents
Chapter 1 Foreword
Chapter 2 The Basics
Chapter 3 The Initial Client Meeting
Chapter 4 The Stop and Arrest
Chapter 5 Physical Sobriety Exercises
Chapter 6 Roadblocks
Chapter 7 Breath and Urine Testing
Chapter 8 Refusal to Submit to the Breath Test
Chapter 9 Blood Tests
Chapter 10 Administrative Driver's License Hearings
Chapter 11 Jeopardy Limitations on Prosecutions
Chapter 12 Jury Selection
Chapter 13 Cross-Examination of the Arresting Officer
Chapter 14 DUI, the Entrapment and Necessity Defenses
Chapter 15 Expert Witnesses
Chapter 16 The Closing Argument
Chapter 17 Jury Instructions
Chapter 18 Murder, Manslaughter, Vehicular Homicide, and DUI with Serious Bodily Injury
Chapter 19 DUI and Drug Recognition
Chapter 20 Sentencing
Chapter 21 Accident Investigation and Reconstruction
Chapter 22 Top Twenty Tips for Defending DUI Cases
Chapter 23 Some Other Serious Vehicular Offenses
Chapter 24 DUI in a Civil Context
Chapter 25 Boating Under the Influence